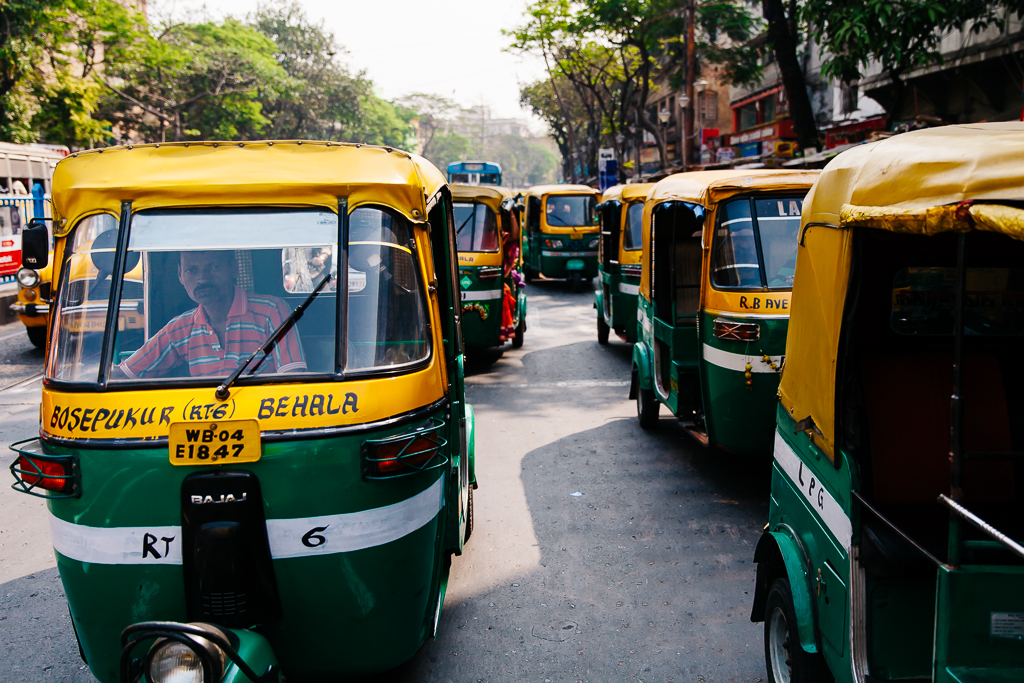 *City Street Profiles is a series of guides on shooting Street Photography in cities across the world. One of the biggest things I found lacking on the internet was Street Photography info for specific cities so you can be ready to shoot when traveling to a new city. Find the best spots to shoot, what to capture, safety concerns, street tips, and more for cities around the world.  (I have personally shot Street Photography in every city that I create a guide for)
Kolkata
Overview:
Kolkata is my personal favorite big city in India for Street Photography. It's like no place I've ever been. The former capital of British India is a city that mixes the old world with the new in a chaotic combination that only India could do so well. You don't hear about Kolkata as much as Mumbai or Delhi, but if you want to go to a big city in India for Street Photography, it would be my first recommendation.
Street Spots Map:
 Top 5 Street Spots:
1. Sudder Street
Sudder street is famous for tourists and backpackers due to it's abundance of cheap hotels and eateries catering to them. While you do get some of the seedy things that typical backpacker areas attract, I never felt unsafe here.
What you also get on Sudder Street is one of the best places for Street Photography that you will find. You're not going to find a shortage of people in the street to shoot anywhere in India, but Sudder Street takes it up a notch. Food carts, pulled rickshaws, Ambassador taxis, street vendors, cows, goats, smells, colors, and people everywhere you look. It's never boring around Sudder Street.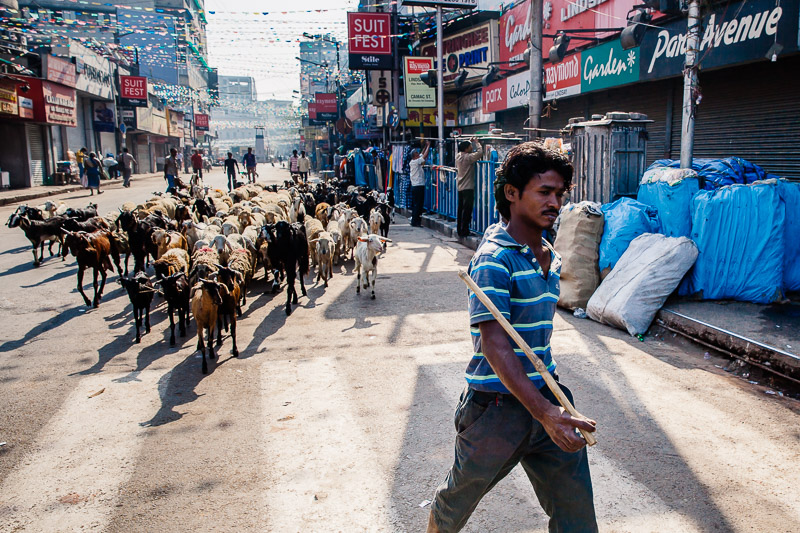 If you like shooting at markets too then this is the place to go as Sudder Street is right next to Lindsay Street, the home to Sir Stuart Hogg Market, with over 2000 shopping stalls. While this historic market has most of its stalls inside, it's also at the center of many other stalls and stands spilling out onto the crowded streets.
2. College Street
College Street is home of the largest second-hand book market in the world. Small, colorful book stalls line the streets for just under a mile (1.5 km). It stretches along College Street from Ganesh Chandra Avenue Crossing to Mahatma Gandhi Road crossing.
The name comes from the top universities in the area which also serves as a big customer, as most of the college students come here to buy their text books. As far as books go, though, you can find any type you can think of, in any language you speak.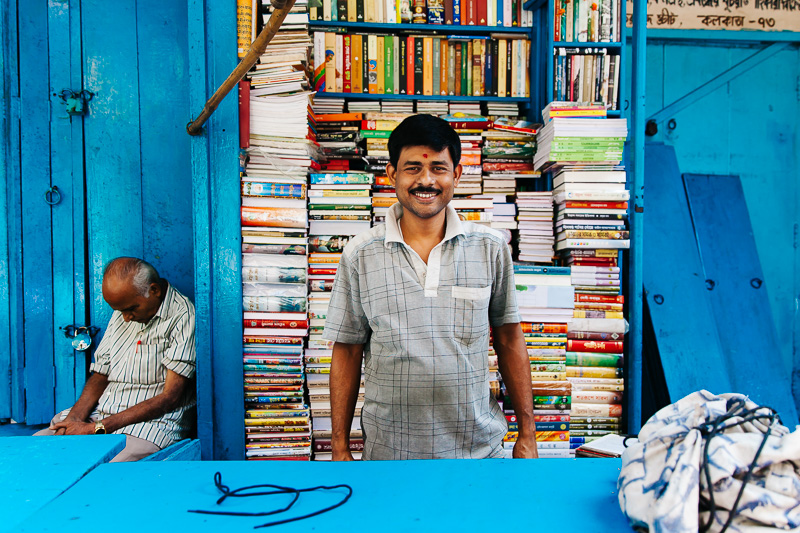 I recommend getting here early so you can catch-all the shop owners setting up their book stalls for the day, before the crowds fill the sidewalks. It's a nice change of pace to see the streets quiet while they read their newspapers, drink chai and chat it up with the other shop keepers.
Once the customers and people start coming, you have plenty more Street Photography to capture too. I love the backdrop of the endless stacks of colorful books too. To catch a glimpse of what it's like, check out my photo series of it here.
3. Mallick Ghat Flower Market
One of the largest flower markets in India and my personal favorite. You don't need to like flowers to enjoy it either. It provides a paradise for Street Photographers with all the action and scenery of this busy market.
The many stalls are sprawled under a bridge and along the banks of the Hooghly River. It's a chaotic place, but at the same time there's a beautiful juxtaposition with all the hard-working, masculine men carrying a variety of colorful flowers everywhere you look.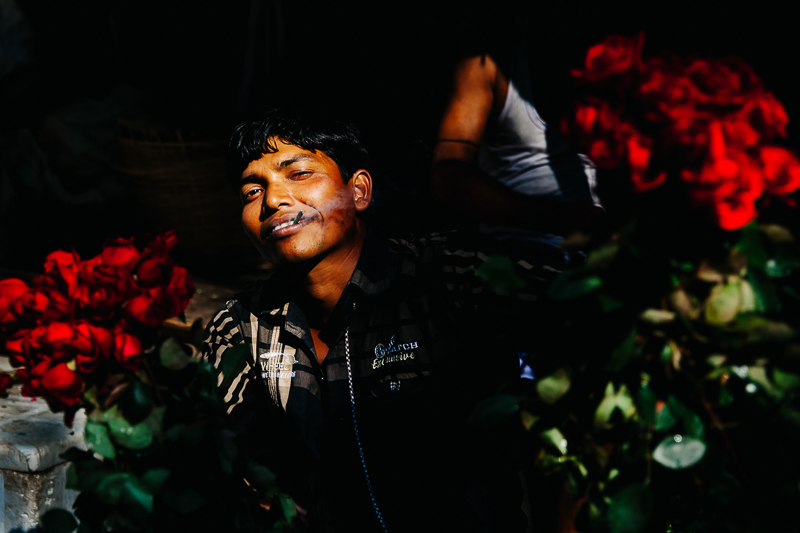 There's so much going on around you in the middle of the stalls, but you can also escape out back by the river and get a backdrop of the bridge, while vendors carry bags of leaves to soak in the water and others bathe and wash clothes.
My favorite work I've seen done on this flower market was by Danish photographer Ken Hermann. Check out his project titled Flower Man where he shot street portraits of the different vendors by the river. They're amazing.

4. Park Street
Park Street is a famous thoroughfare in Kolkata. It was the original high street of this huge metropolis and has been the recreation zone for Kolkata people since the British era. This is where much of Kolkata's night life has been centered over the last century and remains Kolkata's premier dining district.
Lined with cafes, restaurants, bars and shops, it's more upscale here than the rest of Kolkata. While it's lost a little of it's luster with more commercialization than the rest of Kolkata, it's still retains some of it's old world charm.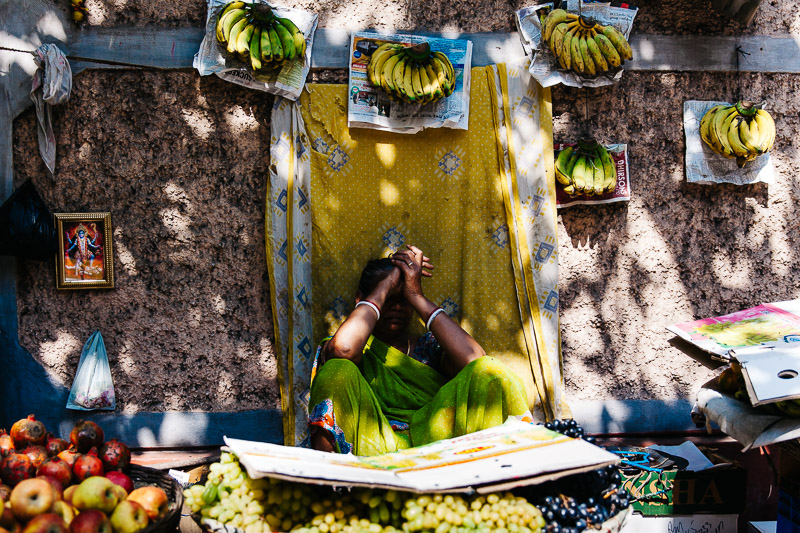 Come here if you want to mix in slightly different and more modern scenery for your Street Photography than the rest of Kolkata. There's plenty to do here so it's one of the prime spots for walking and people watching. This is where the locals come for recreation too.
5. Queens Way/Victoria Memorial
The Victoria Memorial is a large marble building on Queens Way that was built over a century ago in dedication to the memory of Queen Victoria. Now it's also a museum, but the reason you should come here for Street Photography isn't for the building, but for the 64 acres of grounds and gardens surrounding it.
There are parks, ponds, and plenty of people walking around here at all times during the day, especially in the evening. One thing I noticed is this is where all the young couples come for romance too. In the streets you don't see much affection, but here everywhere I looked there were couples enjoying each other's company and the quiet privacy the grounds gave them in comparison with the chaos of the rest of Kolkata.
Across Queens way is the popular place for all the local kids and adults to come play pick-up games of Cricket on the gigantic grass field. If you really want to capture India's love for cricket in your Street Photography, I'd recommend coming here on a Sunday.
Top 3 Things to Capture in Kolkata:
1. Rickshaw Pullers:
Kolkata is one of the few cities in the world where hand-pulled rickshaws are still seen. And they are everywhere here. Originally brought to India by Chinese immigrants in the 19th century, rickshaws are one of the oldest vehicles of Kolkata and an emblem of the city's tradition. With their colorful seats, long bars, and the ringing of bells by the men who pull them, they have inspired poets, artists and novelists.
You can see some of my portraits of these stoic men with their vehicles here.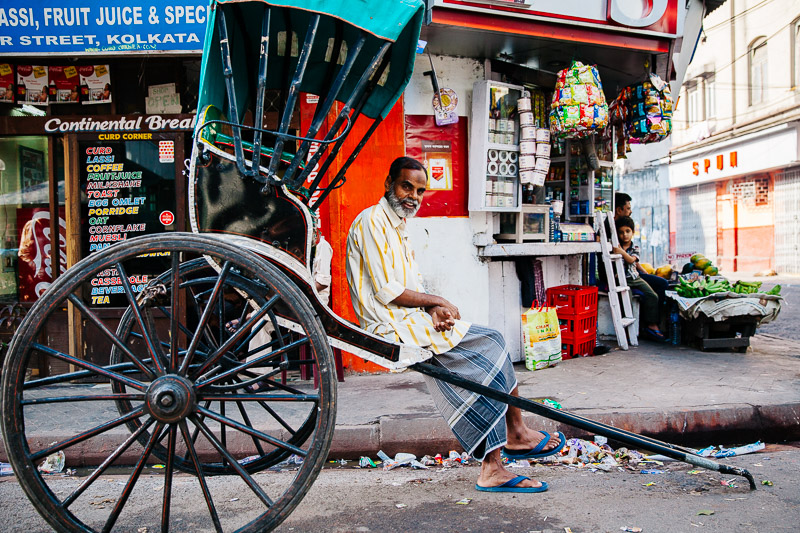 2. Cricket:
Cricket is India's sport and Kolkata is one of the best places to spot a pick up game, in the streets or the park. You will see kids everywhere carrying around beat-up wooden cricket bats while looking for the next game. Don't be surprised if you're invited to join in on one of their street cricket games too.
3. British Styled Taxis:
Taxi cabs dominate the streets of Kolkata. They are everywhere, along with the sound of their horns. These aren't your normal taxis, though. Most of them are old, yellow Ambassador Classics. These are the first cars manufactured in India and were modeled after the vintage styled British Morris Oxfords of old. In my opinion, they are coolest cabs in the world and provide a unique look that is all Kolkata.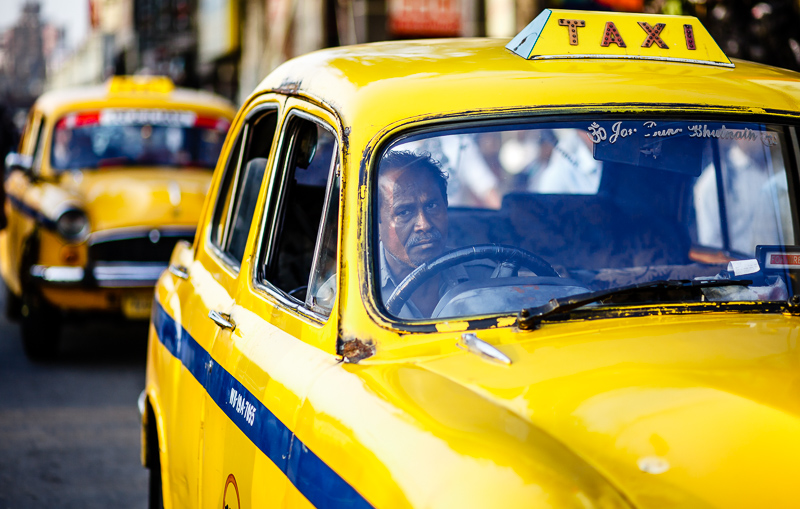 What to do for a Street Photography Break
Eat:
Kolkata is famous for their Bengali cuisine. Food carts are everywhere here so taking a break to eat great food couldn't be easier or cheaper than in Kolkata. I'd recommend Phuchka/Churmur and Ghugni Chaat. Or Jhal Muri for a quick snack you can walk with.
Another thing about Kolkata, and India in general, is the cheap ice cream stands. For 20 cents you can get a decent ice cream bar or cone anywhere, which is amazing during a day shooting in the hot streets of India. Seriously. Amazing.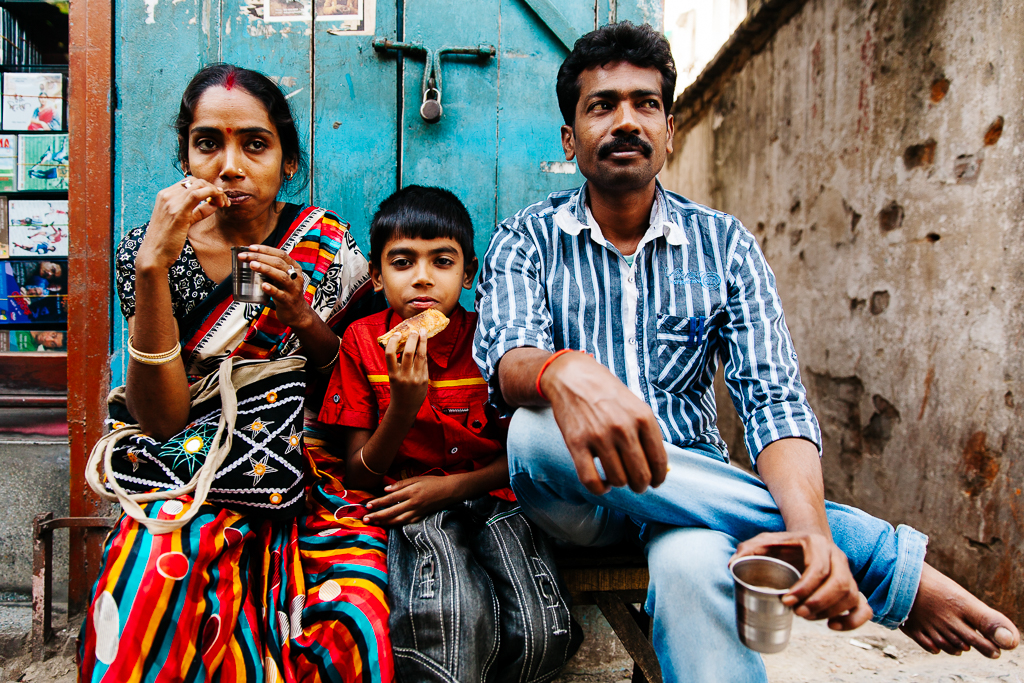 Street Safety Score: 7
*As always, no place is completely safe! So when I say a place is safe, I'm speaking in general in comparison to other places. Always take precaution, be smart, observe your surroundings and trust your instincts anywhere you go!
Once you get used to all the eyes on you and realize it's out of curiosity, not danger, then you'll realize how safe Kolkata feels for such a chaotic city of its size. I've never once felt unsafe in Kolkata. At night you should keep your guard up as usual, but the most that will probably happen is someone offering you marijuana around Sudder Street. Typical backpacker area stuff.
Now I do have to be honest, though. Safety concern is different if you're a woman, which is why I knocked the score down from an 8 to a 7. These concerns are well documented online for Kolkata and India so I won't go into them, but women should take a little more precaution than men in the streets at night.
People's Reaction Score: 9
When it comes to people's reactions, I can't think of an easier place to shoot Street Photography than India. Some might be curious about what you're doing, but most don't mind at all. Even when they notice you, many don't even react and just keep going about their business candidly. Then there are others who actually want you to take their photo. I have never seen a negative reaction to Street Photography in India.
So why didn't I score it a 10? Because I'm mostly referring to the men in the above paragraph. Women are friendly too, but much more shy and many times will hide if they notice you taking a photo. It's never in a mean or angry way, though, but only in a friendly, shyness. It's just part of the culture.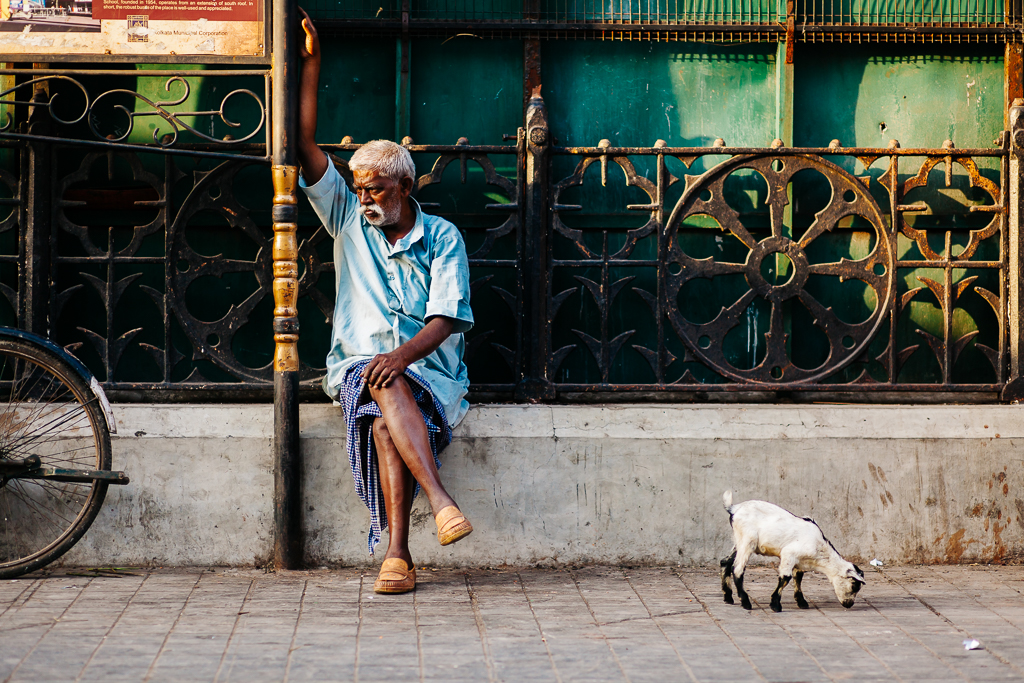 Street Tips:
Bring cool clothing
Kolkata gets hot. Really hot.
Bring tough sandals
Cheap flip-flops won't last long on the broken down streets here, but you don't want to be sweating in boots either. I wore Chacos and would recommend them for anywhere in India (after breaking them in first). There are other similar brands too, just make sure they have good arch support, a nice rubber grip, and tough, quality soles.
Bring extra memory cards (or film)
With so much chaos and action happening everywhere you look, you might have a little sensory overload at first. And with so much to shoot on the streets, you might have memory card overload too.
While there are camera shops in Kolkata, it's harder to find what you might need and the prices will be inflated. So I'd recommend bringing more memory
than you expect to use. And for the film shooters, definitely bring a few more rolls of film
than usual.
I hope this Street Photography Guide to Kolkata helps you get ready to photograph these beautifully chaotic and colorful streets. I want to make these guides as valuable as possible for all of you so please add any ideas on improvements or additions below in the comment section!
Also, if you've ever been to Kolkata before or shot the streets and life there, be sure to tell me about it below in the comments!