"A Day in the Streets" will be a recurring series following a regular day shooting the streets in different cities around the world during my travels. The focus of this is to show a normal, average day of street photography, so the photos will reflect that. 99% of your shots won't be great so hopefully this will give a real representation of day-to-day shooting street photography in the city. Comment below if you find this series interesting or beneficial to you at all, or if you have any ideas to add to it!
Portland, Oregon, USA
Since I'm from Portland, Oregon, I might as well start the series off while visiting family here. I'll be honest, though. I've never been a big fan of shooting in my hometown.
I love saturated colors, light, shadows and contrast. When it comes to the Pacific Northwest, you get the opposite of that 9 months out of the year. Grey, dark, overcast, and wet is the norm. But that's no excuse! So here we go.
It was a normal cloudy day in Portland so I waited for the morning rain to stop and left to go shoot the streets around 11am. Later than I wanted, but mid-day sunlight doesn't matter as much when you don't actually see the sun. (I actually love Portland. I promise. It's a great, unique city. In the summer the weather is perfect and it would be hard to find a better place.)
For my first shot of the day, I played around with the reflection in a closed bar's window. I liked the blue of the reflected building mixing with the pink of the bar's interior and how the gold mirror in the bar created another layer.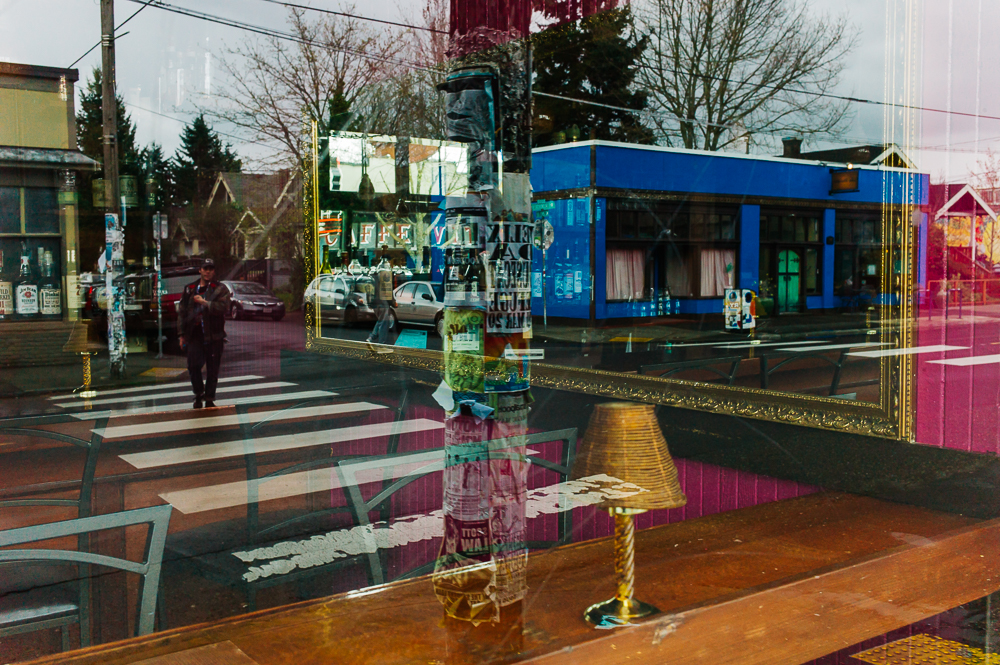 I wish the bar had been open so I could have gotten a person inside the window. I might have to come back sometime.
Then I walked down Hawthorne Street, which is the type of eclectic neighborhood Portland is known for. A hotspot for hipsters and hippies, the very walkable street is lined with vintage shops, boutiques and cafes.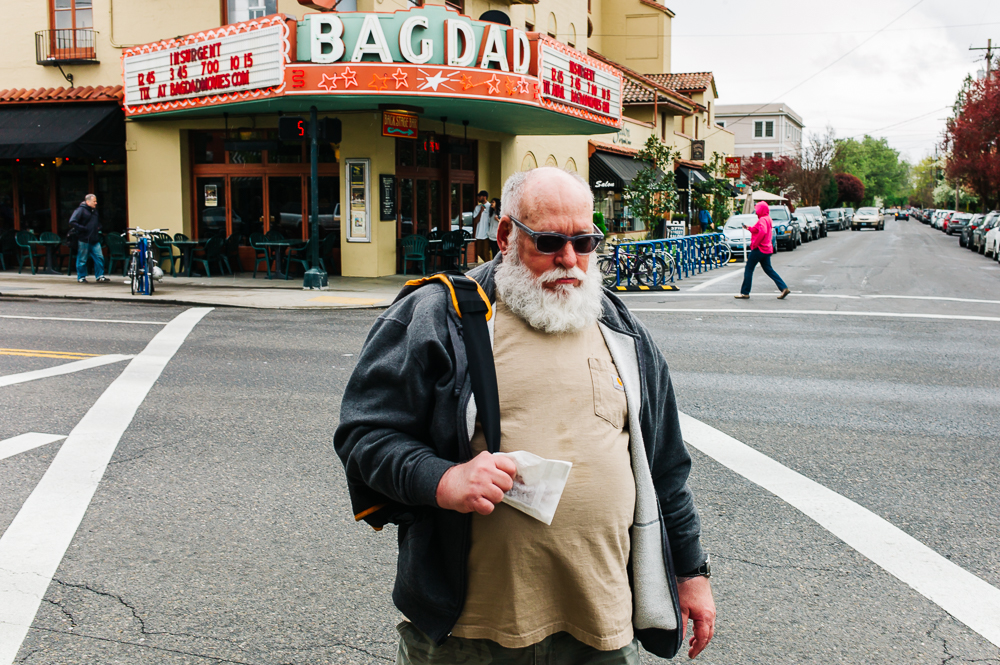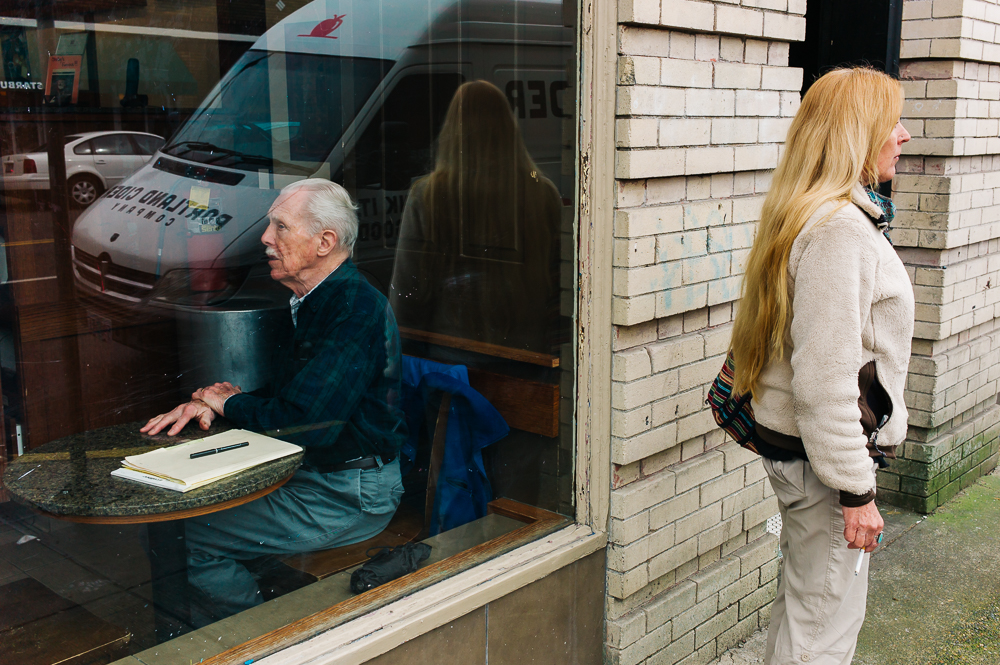 Cars are one of the 2 biggest pet peeves of mine in street photography(cell phones are the other), but unfortunately there wasn't an angle that wouldn't include them in the reflections.
*Parental advisory ahead :)
Some of the paper flyers stapled across Portland are interesting, to say the least. For example…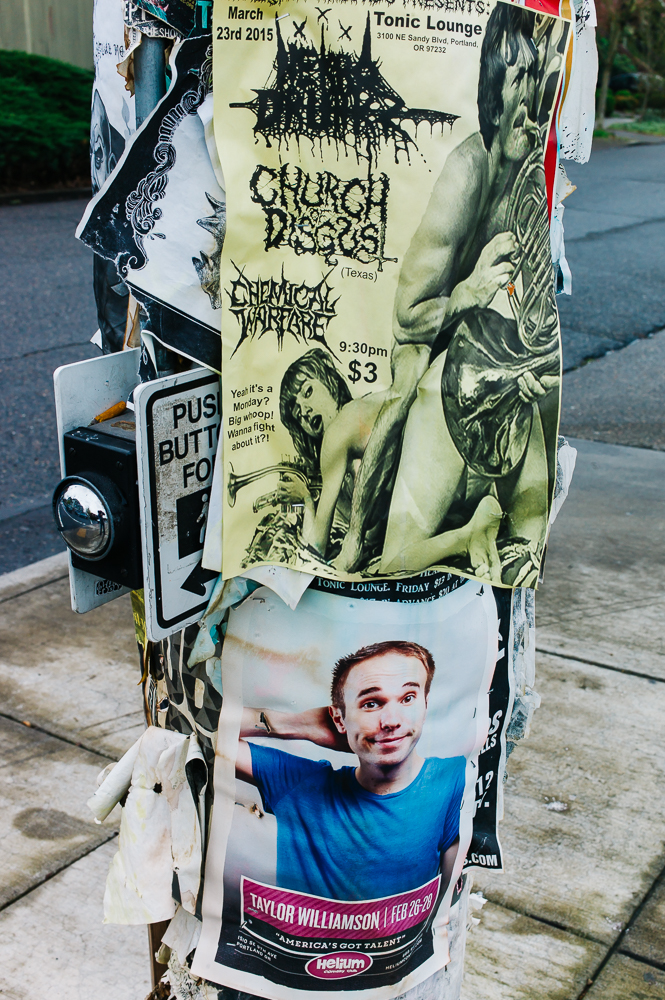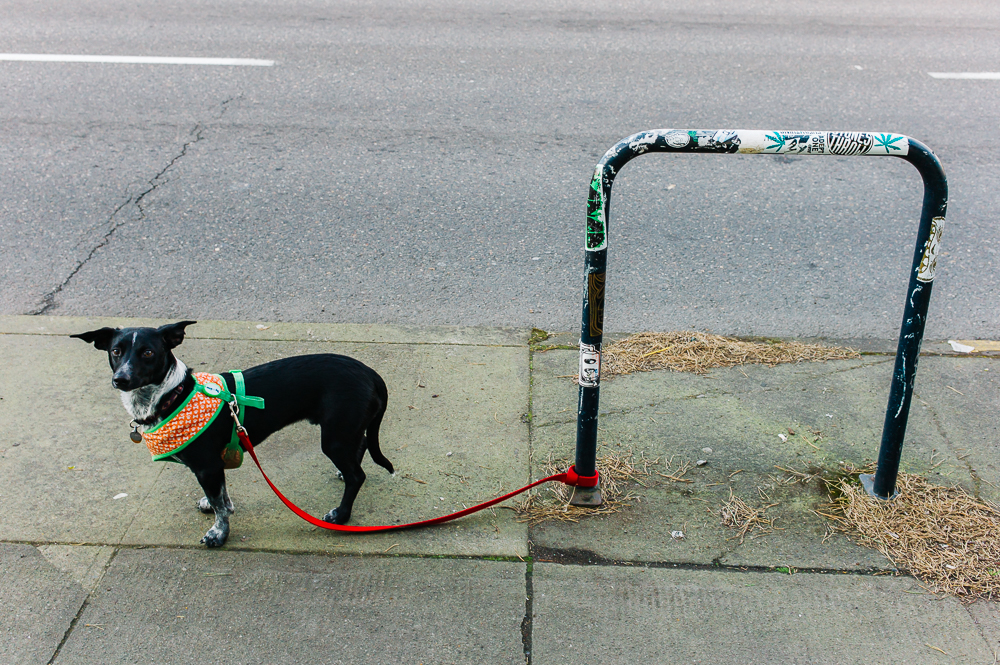 I would have gotten down and shot this at eye level with dog, but that would have included a messy background of parked cars across the street.
After walking down Hawthorne, I went across the bridge to downtown Portland.
I spotted this little, old lady up ahead waiting at the cross walk. She was probably the most interesting person of the day with her black fur coat and white hair wrapped in a colorful scarf.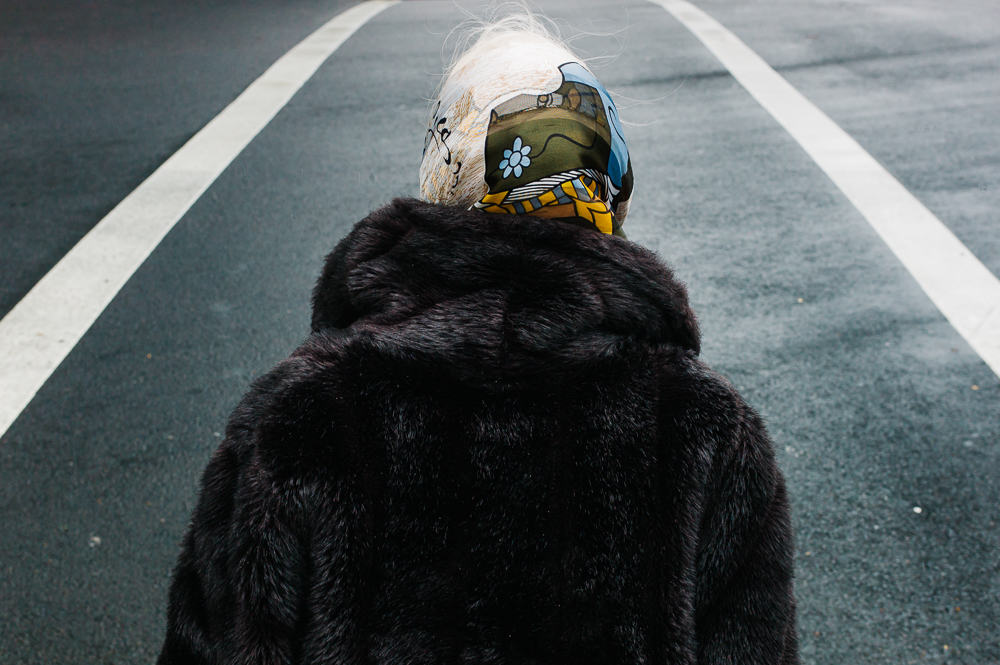 Next, I passed the most hyped donut shop in the world, Voodoo Donuts. Bad weather didn't stop the usual long line wrapped around the block. Tourists love donuts.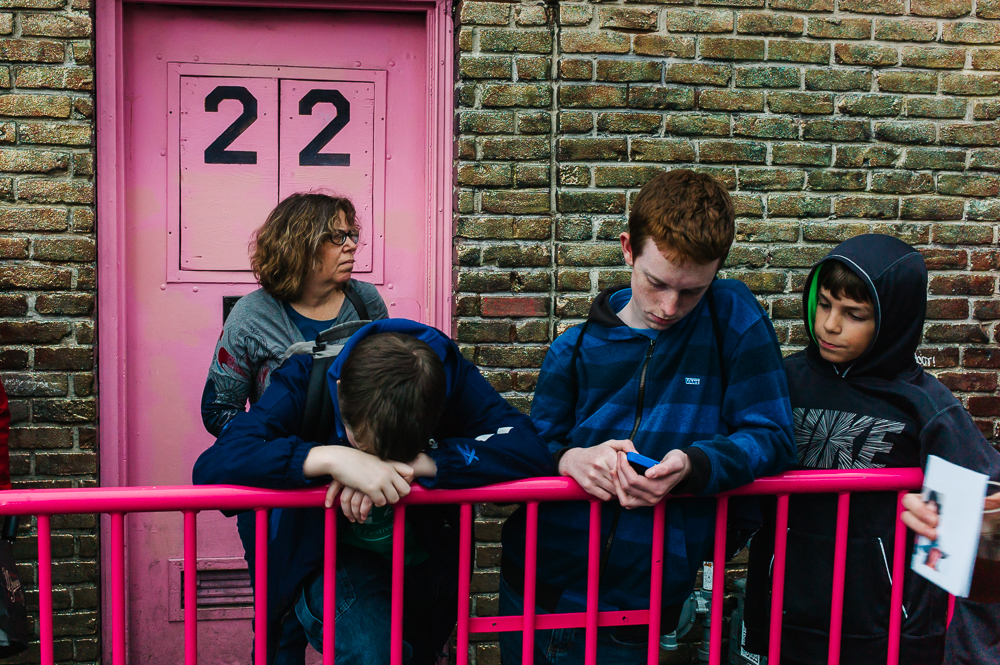 After that, I wandered the downtown streets looking for anything that caught my eye.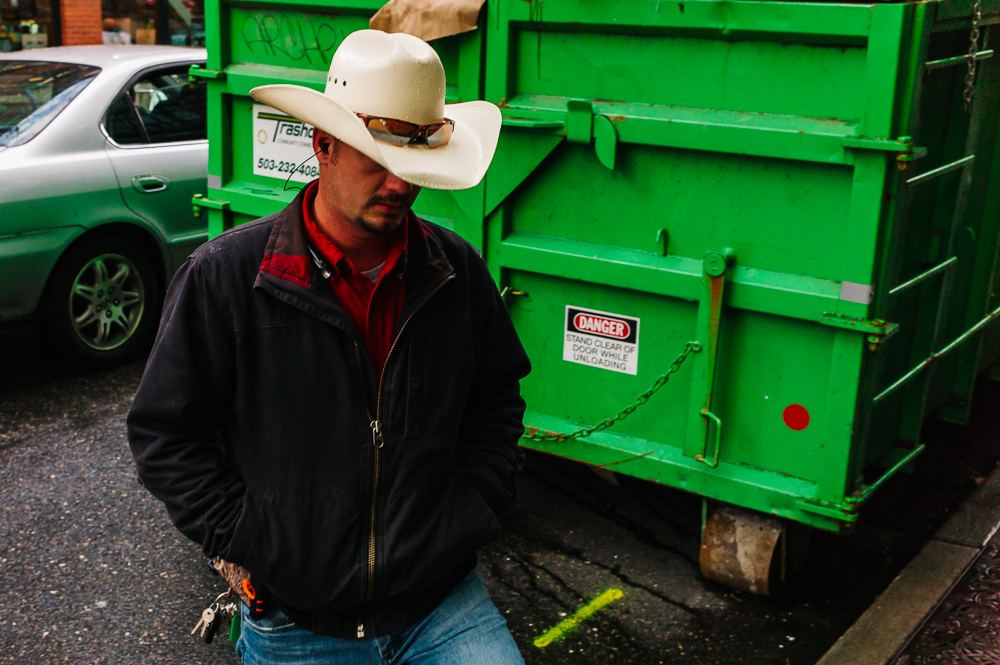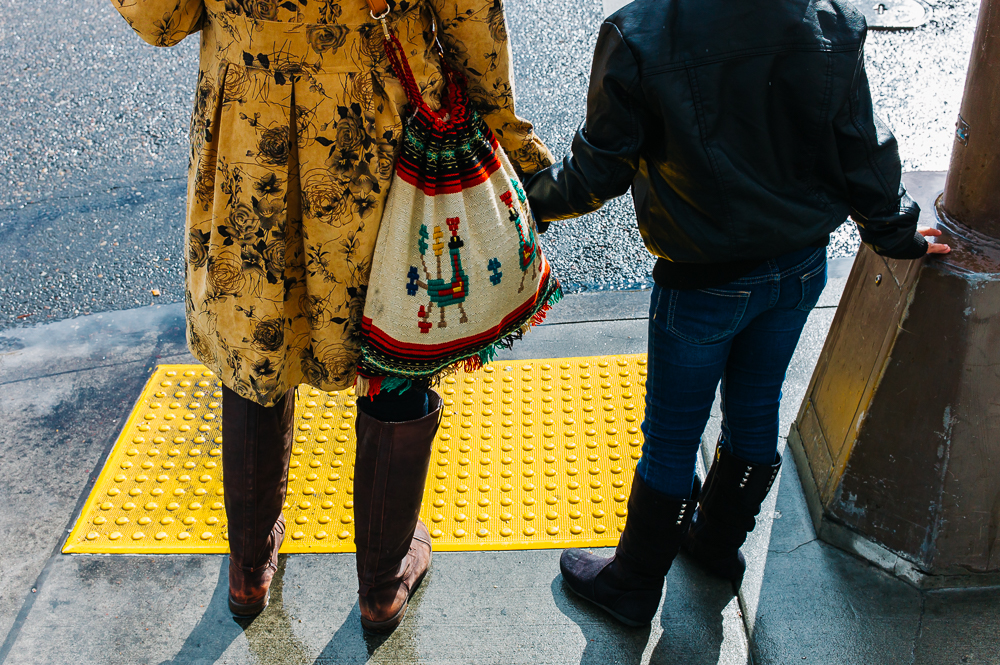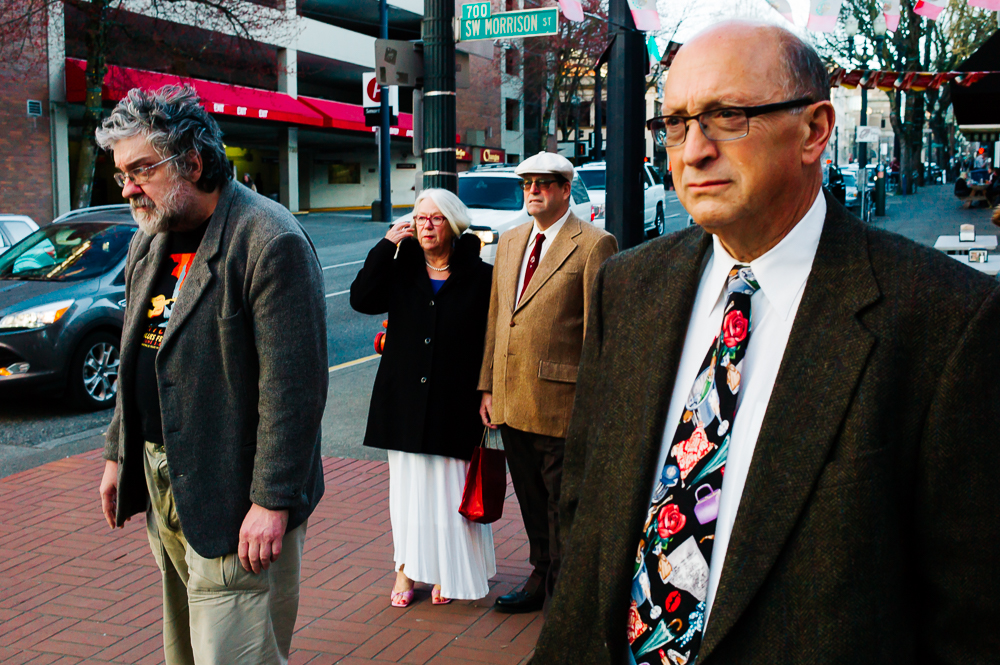 Now, time for my one negative reaction of the day.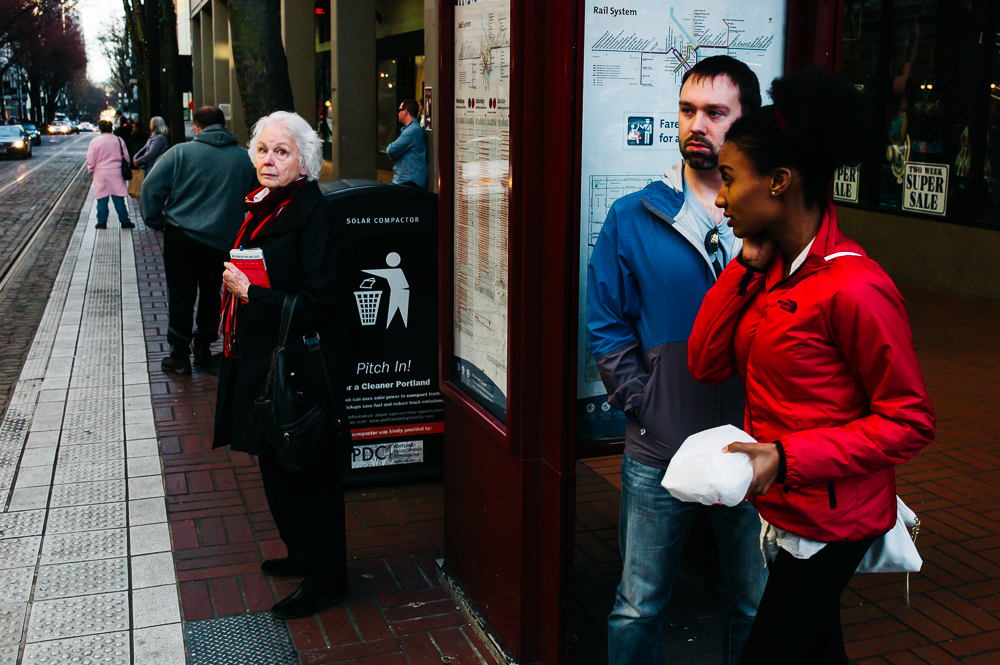 It just so happened a police car stopped right in front of us afterwards, waiting for the traffic light. She signaled to him frantically and pointed at me. I just smiled and the cop drove on. She never actually said a word to me.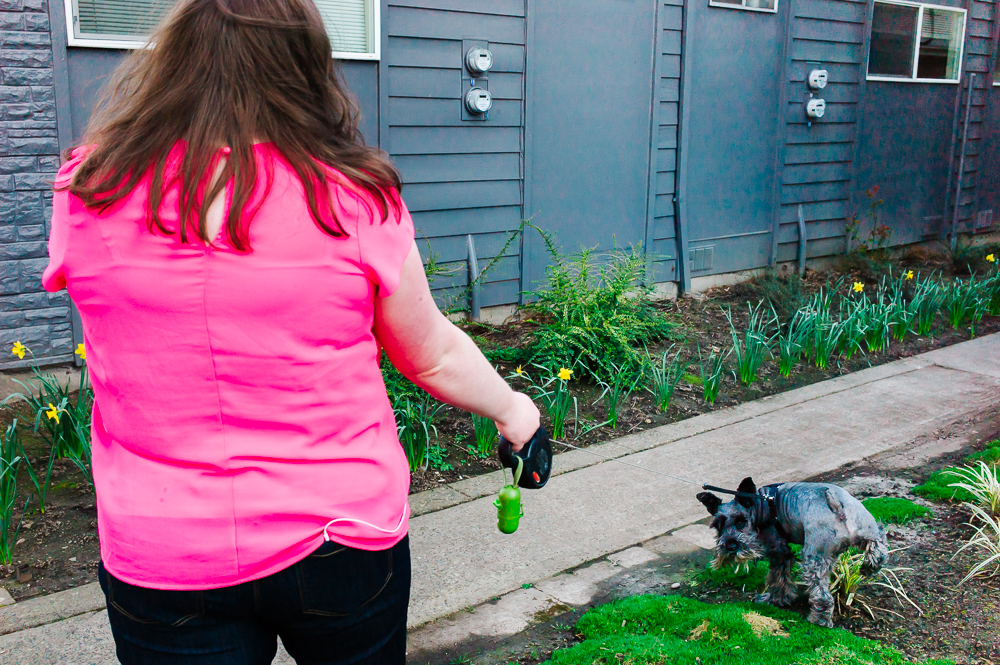 There's a big lingerie shop downtown that can create some interesting window backgrounds.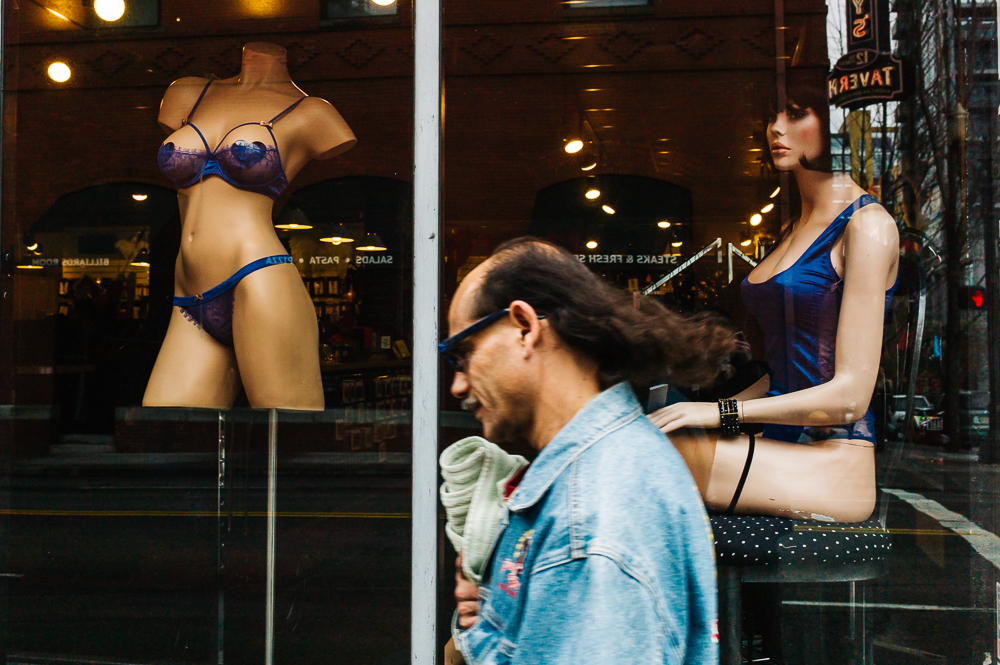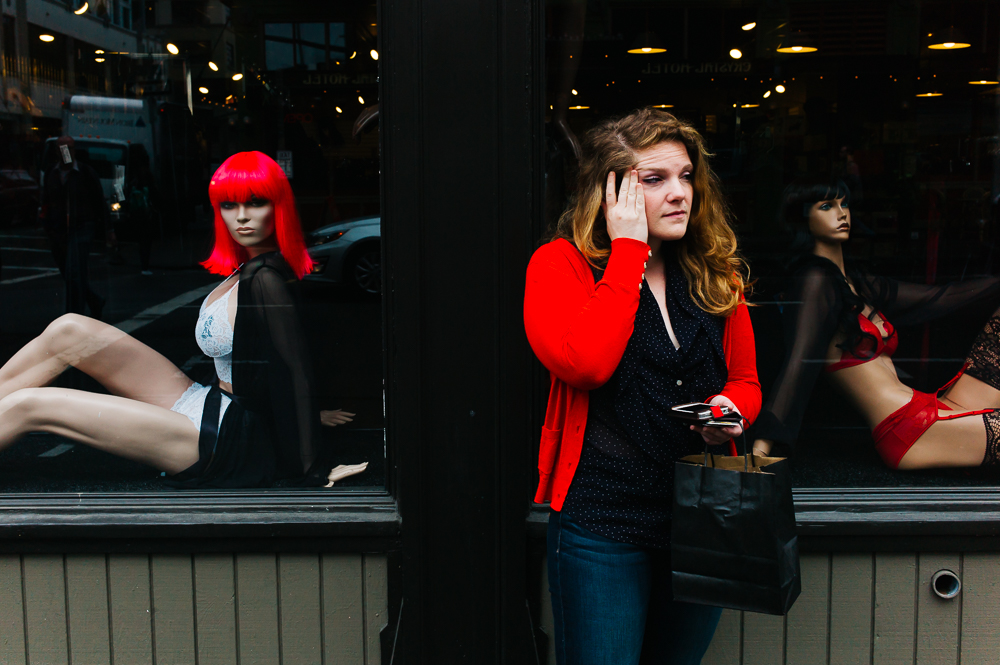 Once it started getting dark I decided to walk to Powell's Book Store, which is a staple of Portland. The largest independent book store in the world, it takes up a whole city block with its multiple floors and rooms. People spend all day here flipping through the endless books.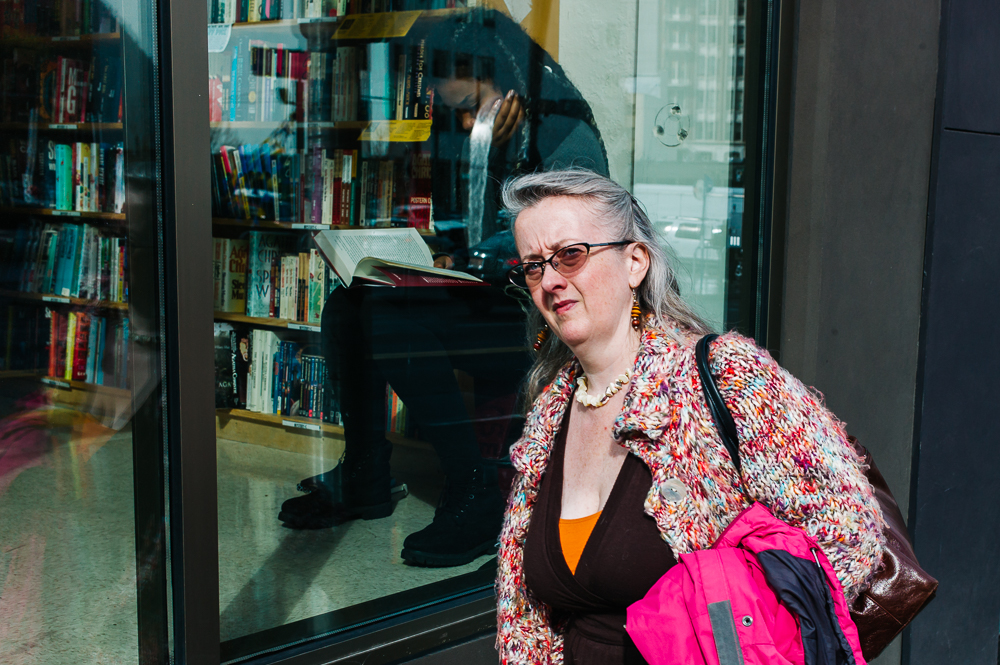 After spending some time in the photography book section, which is the best, it was time to head home. I took one last shot of the book store before I got into my car.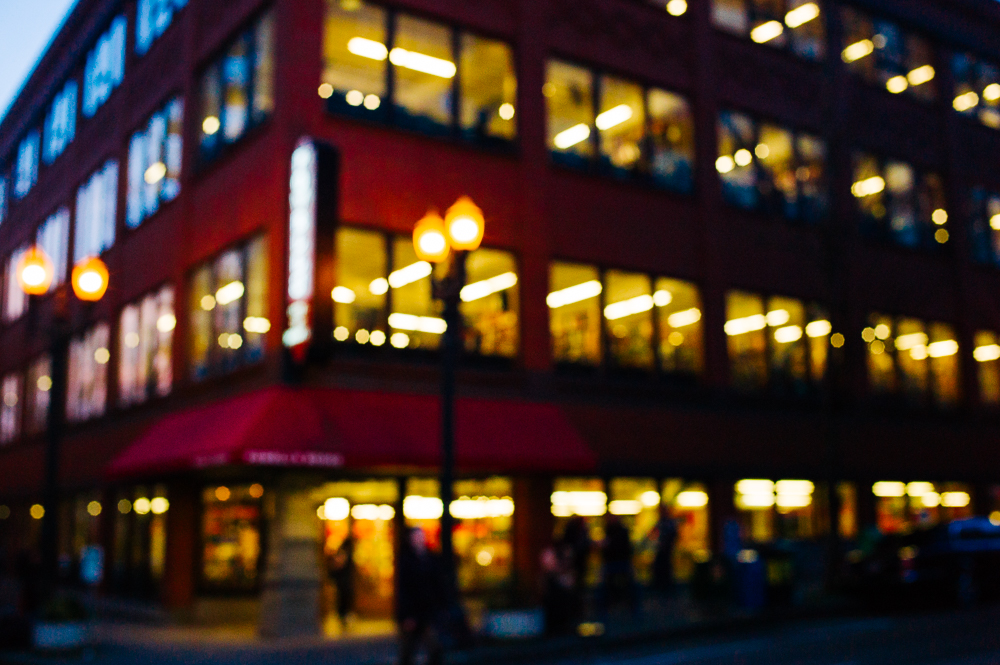 And that was the end of another day shooting in the streets.
Shot Story of the Day: "Lady in Red"
I stopped to look at a window and out of the corner of my eye I noticed this woman in a bright red coat on the phone speed walking towards me. I immediately shot a photo of her before she passed.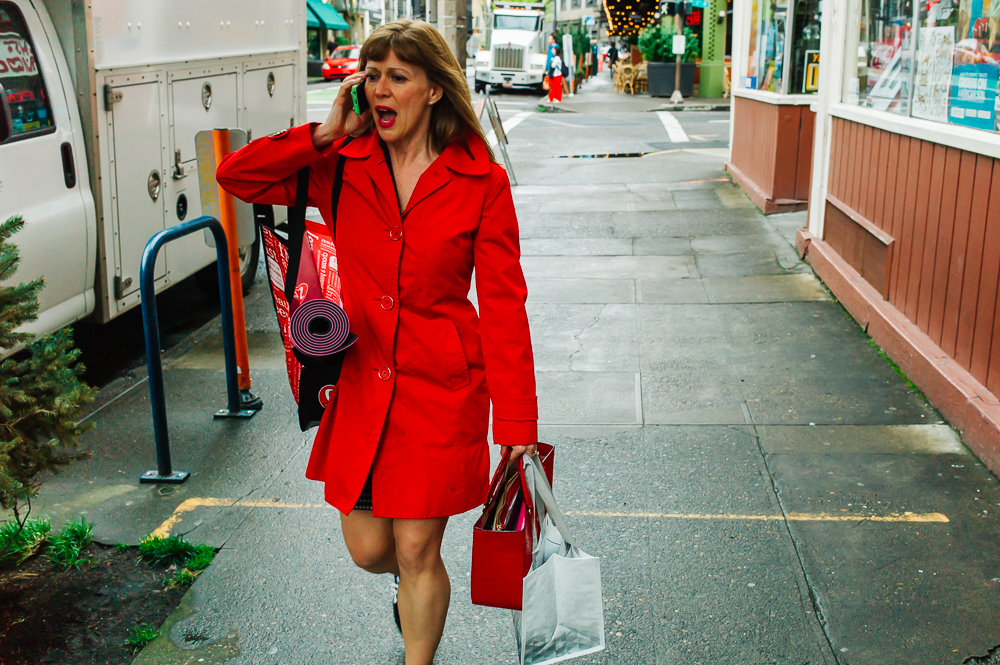 Not the best photo since I had no time to think, but I loved her red coat and there was something interesting about her. She was extremely animated while talking on the phone and the speed she was walking at was crazy.
I wanted to take another photo of her so I speed walked even faster past her until I saw some red and green plants as a background along with an interesting man with a cane sitting on a bench. I shot the photo as soon as she passed. Now that she was off the phone, she had upped her speed walking to olympic level as she blurred by in the photo.
I'm not sure if I like her being blurred, but I like the colors with the red of her coat against the red and green plants. You can see she's holding a newspaper too which adds some gesture. And the man in the background adds interest for me too.
So overall, it wasn't a bad day of street photography. Portland has a lot of characteristics that differentiate it from other cities, especially on the east side.
If you ever get a chance to shoot in Portland, I'd really recommend the summer time during one of the many outside festivals they have. Last Thursday is one that happens on Alberta Street every month during the summer. You are guaranteed to see a high concentration of characters that would be hard to beat.
In the comments below, tell me if any of you have had experiences shooting in Portland. What did you think?
If you haven't been to Portland, what's your normal day of shooting in the streets usually like where you are?